Like every community or social media manager, one type of social media content you're likely to share is posts that play on what's happening in the world– the trends of the day, week, or month. To find content for these posts, many of you are probably turning to Twitter's Trending Topics--that friendly little section on the left-hand side of your browser when you visit Twitter.com, and something that can be personalized (or not) to what Twitter thinks you'll be most interested in.
We admit that Trending Topics are pretty handy when it comes to inspiring content, but it's also the same place EVERY. OTHER. BRAND (and probably your competitors) is looking for content ideas. Boring! Today, we've got 5 other places you can look for trending stories to inspire you.
1. Buzzfeed
With more than just cute puppy pictures and spoiler-filled lists, Buzzfeed's trend section gives readers a look at what's popular on its own site (helpful for inspiring pop-culture-related social content) as well as what's popular around the rest of the web. Sometimes, real, hard-hitting news stories even show up in the list!
2. Google Trends
This tool has been around for years, but it's made a resurgence in recent weeks when it released a new way of displaying trending searches: a new visualizer that allows you to view 1, 2, or up to 25 simultaneous trending searches – customizable to show one country or worldwide trends. Watch the trends flip by and click one you're interested in to see the Google search results.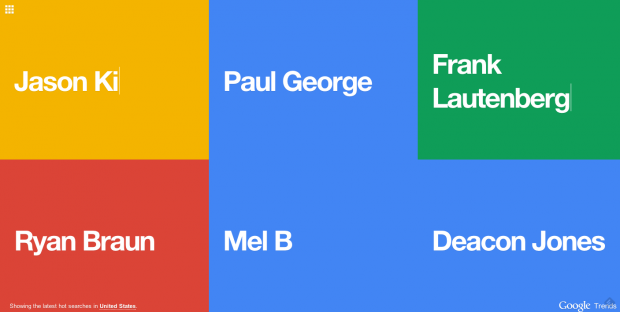 Alternatively, you can view the Google Trends Top Charts page and drill down on a specific topic you think your community may find relevant: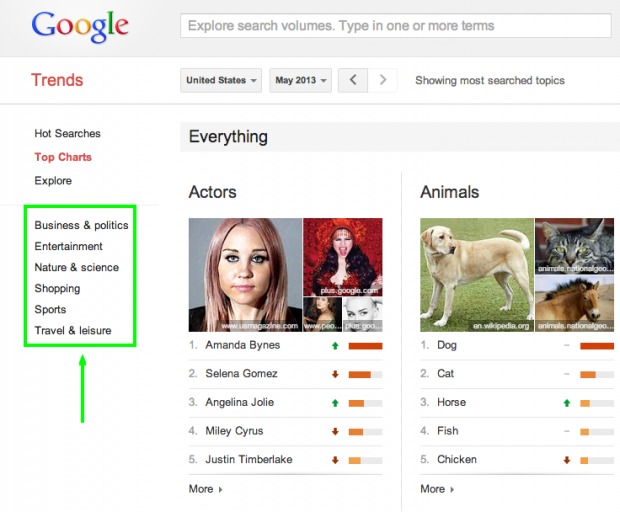 3. Google+
If you're managing community/social media for a tech-oriented brand, try checking out the "What's Hot" section of Google+! This little-known section shares trending hashtags, popular posts and people/pages it thinks you may find interesting – perfect fodder for sharing or creating new content. Find the section at http://plus.google.com/explore.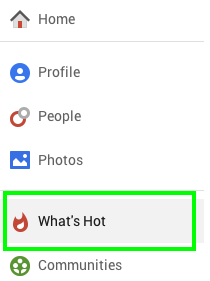 4. Reddit
Also a departure from the typical Twitter crowd, Reddit is a place where jokes, news, and interesting tidbits from across the internet are aggregated and ranked according to the number of people who have up- (or down-) voted the post or comment associated with it. If you're in need of a new meme to fuel your content, Reddit is a great place to look.
5. Using a Social Media Analytics Tool
Social media marketing platforms often have built-in data analysis tools that allow you to view trends in social at-a-glance. Exporting data from your social platform into a tool like wordle.net can give you a sense of what the trending terms are. Below,  is a real-time conversation map by uberVU.

Original article by Elisabeth Michaud for Hootsuite.